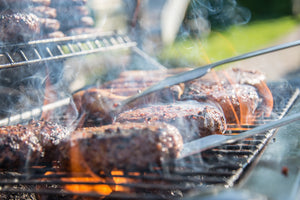 5 Simple Tricks To Start Losing Weight
Losing weight doesn't have to be complicated. It's simply a matter of calories in versus calories out.
Here are 5 tricks you can start using TODAY.
Imagine how good will it feel to see the scale go down!
1) WALK EVERY DAY
The absolute simplest & quickest way to start burning more calories is to start walking. And I said WALKING, not trying to run a marathon.
Make the time to walk 30-60 minutes a day. You can even get PAID to do so, if you like dogs.
PRO TIP: Listen to audiobooks or podcasts when you're out for a walk or doing cardio. You'll maximize your time and the extra blood flow & oxygen will help you process the information better.
2) ONLY DRINK WATER
Tons of calories can sneak into your diet through your choice of drinks. Make things simple for yourself & only drink WATER.
When you stick to this rule, you eliminate the chance for mistakes. Staying properly hydrated will also help you lose weight.
3) CAFFEINE
There's always an exception to the rule. You can consume caffeine through BLACK COFFEE or TEA without increasing your calorie intake.
Caffeine is a strong appetite suppressant & common in many "fat burners." Staying caffeinated will help you survive your cravings.
4) STOP EATING SUGAR
You know what blatantly has sugar in it.
Stop buying it. Stop eating it. Stop drinking it.
Don't tell me you "don't know what's healthy" because you definitely know what's UNHEALTHY. Stop consuming the junk food & inches will fall off your waist.
5) EAT RED MEAT & EGGS
Consuming a diet of mostly red meat, eggs & other proteins (cooked in butter) will SHRED some weight.
This cuts out a lot of carbs & eliminates the chances for screw-ups by keeping your food choices simple. Add black pepper, hot sauce, or salsa for taste.
PICK TWO METHODS.
START THEM TODAY.
NO MORE EXCUSES.
Fat loss isn't complicated. You just need a plan & some discipline.
Send me a message if you need help getting started.
---